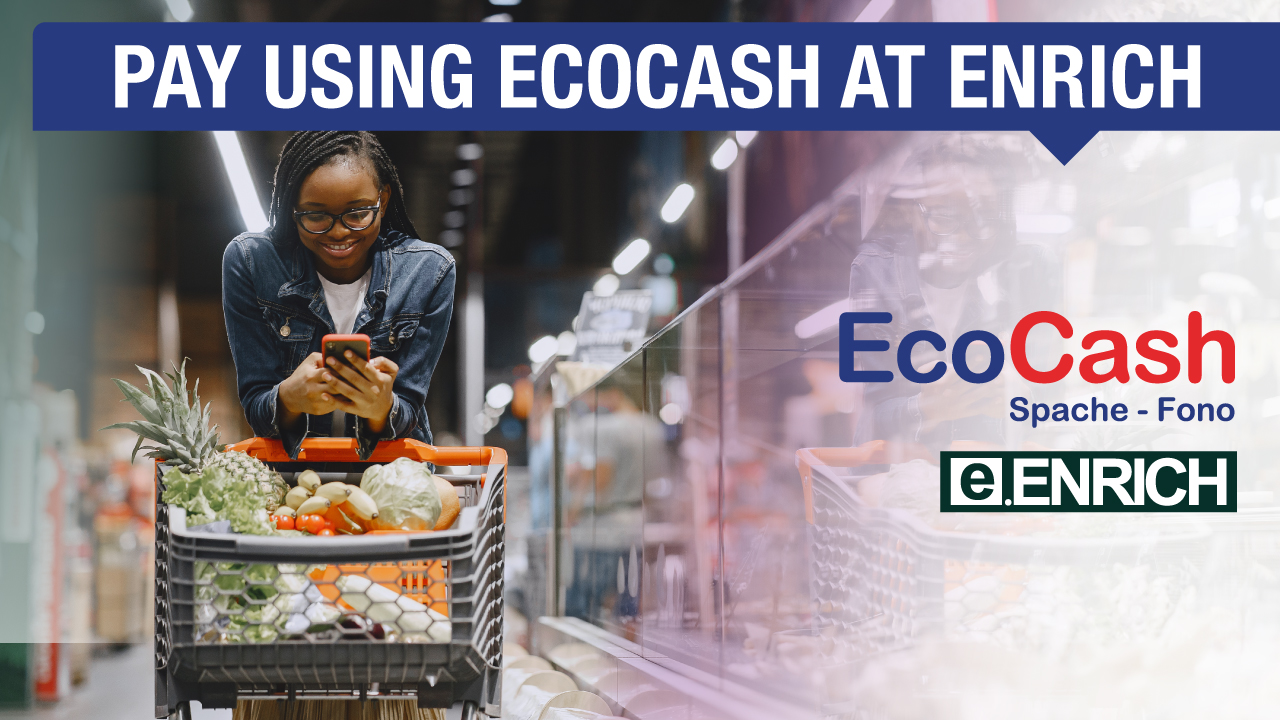 Telecom Lesotho, partnered a locally owned chain stores, Enrich, through a point of sale integration on its mobile money platform, EcoCash.
This was revealed by the two companies this week at a joint launch of their collaboration and introduction of this ground breaking system integration between a telecommunications giant and a chain stores owned by more than one thousand shareholders.
The innovation serves as another platform that will offer convenience to customers. This simply allows customers to pay for groceries effortlessly from their EcoCash wallets into Enrich's merchant account.
Econet's Sales and Distribution Manager,
'Matikoe Letsie said that the two companies combined their systems to ensure a seamless and effortless shopping experience. She mentioned that no card is needed to swipe at the till and definitely no additional point of sale (POS) device that crowds the till because everything is initiated on the till itself. There is a communication between a customer's phone and Enrich's check-out device.
"We don't call EcoCash "Spache-fono" for nothing; a phone indeed becomes a wallet" said Letsie
"In this case, payments happen smoothly between customers' mobile phones and the shop's computer, thanks to Econet's innovation" said Letsie
"This is the first seamless payment deal made with supermarkets and we are proud that a locally owned store like Enrich is pioneering the initiative" added Letsie
Letsie highlighted that Econet intends to partner with various shops in the same manner to offer convenience, increase security by reducing cash handling and fraud at the shops.
On behalf of Enrich stores, one of the directors, Maine Maine, could not contain his excitement that Enrich stores has become a pioneer of an innovation that will not only serve their customers but will also save the store from dealing with lots of cash on a daily basis.
"This assimilation of the systems gives us peace of mind because cash collected on a daily basis is not exposed to robbery but goes directly into the merchant account" said Maine
Maine pointed out that the integration provides customers with flexibility to pay with cash, bank or EcoCash, something he describes as game changing. He added that Enrich store offers a complete set of EcoCash services where customers can also deposit and withdraw money from in-store agent.
How to pay using EcoCash
• Cashier scans groceries at the till
• Cashier confirms amount due
• Cashier selects EcoCash as a method of payment
• Cashier enters customer's EcoCash number
• Customer gets notification to pay with EcoCash
• Customer enters PIN to authenticate the transaction
• Cashier receives notifications of approval on POS and completes transaction
• POS prints receipt